Commercial Indoor Air Quality Testing (IAQ) For Better Health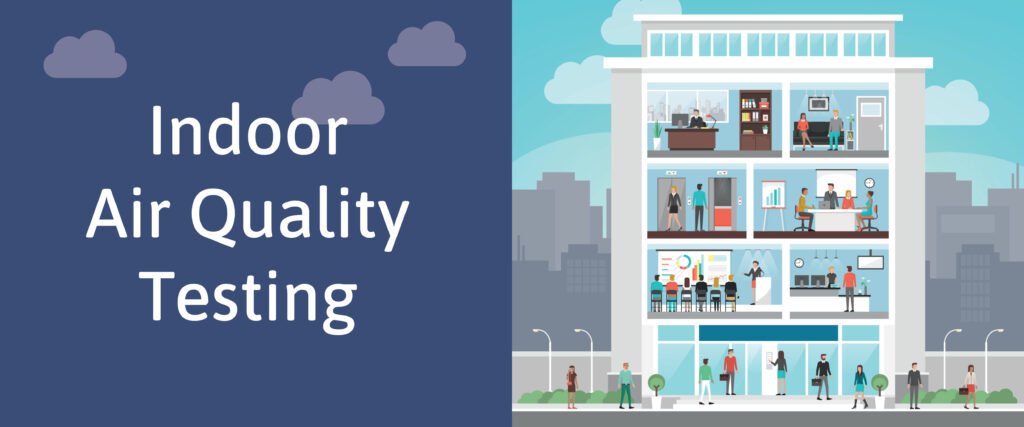 When purchasing or maintaining a commercial property, building safety will clearly be the first priority. Managing safety involves balancing many diverse elements. These include ensuring the indoor air quality (IAQ) is healthy and free of harmful contaminants.
Savvy buyers and current owners recognize that commercial indoor air quality testing allows them to be totally familiar with a critical aspect of a property. Air quality testing before purchase or during continued use helps maintain or increase the commercial property's value.
How Indoor Air Quality Effects Health
For decades medical experts have sounded the alarm about how inferior indoor air quality (IAQ) can make you sick! How does air quality affect health? Studies reveal long-term exposure to polluted air is one of the most widespread negative exposures affecting employees. It's been proven to cause a wide range of harmful outcomes, including:
Lung cancer
Cardiovascular disease
Respiratory diseases such as emphysema and asthma
Chronic obstructive pulmonary disease (COPD)
Environmental cancers (asbestos and radon can lead to cancer years after exposure)
Along with these undesirable conditions, poor air quality causes headaches. It is also linked to fatigue, impaired concentration, and irritation of the eyes, nose and throat.
A substantial body of science-based research confirms that people generally function better in spaces with healthy IAQ. These are owners, operators, employees, clients, customers and tenants. Several of the key benefits include:
Improved productivity
Fewer adverse health issues
Reduced health care costs
Less absenteeism and lower turnover rates
Increased comfort and motivation
Addressing Poor Indoor Air Quality (IAQ)
Many factors can impact IAQ, and there's rarely a quick fix. In a best-case scenario, commercial facility owners and management would draft a mitigation plan that will:
Detect potential contaminants impacting the IAQ in a facility or property
Identify methods to remediate and remove harmful substances
Outline methods for preventing future issues, such as scheduling routine IAQ testing to maintain safe levels.
The logical first step to beginning this comprehensive process is to contract an indoor air quality testing company. They should be experienced in delivering indoor air quality testing services for commercial properties. A licensed professional will undertake specific air contamination testing to determine which IAQ issues a commercial property may have.
A certified air quality inspector tests for specific airborne contaminants using indoor air quality samplings. These samplings are sent to a lab for analysis. The results will determine how safe the air is in a given facility. The results also detail which noxious substances are present in the indoor environment.
New Jersey is one of only two states that regulate standards for indoor air quality in existing buildings. These are buildings occupied by public employees during their regular working hours. And, falls under the New Jersey Indoor Air Quality standard, NJAC 12:100-13 (2007). Indoor air quality testing is generally focused on detecting:
mold
motor oil
chemicals
environmental issues including radon and asbestos
An air quality inspection will reveal conditions that are negatively impacting the IAQ. And, by extension, the health of those using the building regularity. Then, steps can be taken to remediate.
An improved IAQ means a safer, healthier indoor environment in a business setting, office building, or rental property. Commercial properties that would potentially benefit from Indoor Air Quality testing services include:
medical buildings
office buildings
mixed-use buildings
campgrounds
storefronts
strip malls
warehouses and factories
How we can help
Andrews Property Inspection is a recognized industry leader in air quality testing services in Southern New Jersey. They provide commercial and residential inspections in Atlantic and Cape May counties. Andrews Property Inspection takes justifiable pride in its professionalism and has a well-earned reputation for honesty and thoroughness.
Tap into Richard's in-depth knowledge. For example, he can discover potential environmental conditions that can negatively impact a commercial property or a residence.
Andrews Property Inspection will partner with owners and management to provide air contamination testing. See your commercial property or home on the path towards a cleaner, healthier indoor environment. And then everyone can breathe easier.
Andrews Property Inspections
Commercial Building Inspections for New Jersey
For professional air quality testing by a certified indoor air quality inspector
contact Richard Andrews at Andrews Property Inspections.