Residential and Commercial Property Inspections
Are you looking for the best home inspector in southern New Jersey?
Andrews Property Inspections provides the best residential and commercial inspections in south Jersey. Service areas are Atlantic County, Cape May County, Cumberland County, Ocean County, Salem County, Ocean County, Burlington County and Gloucester County.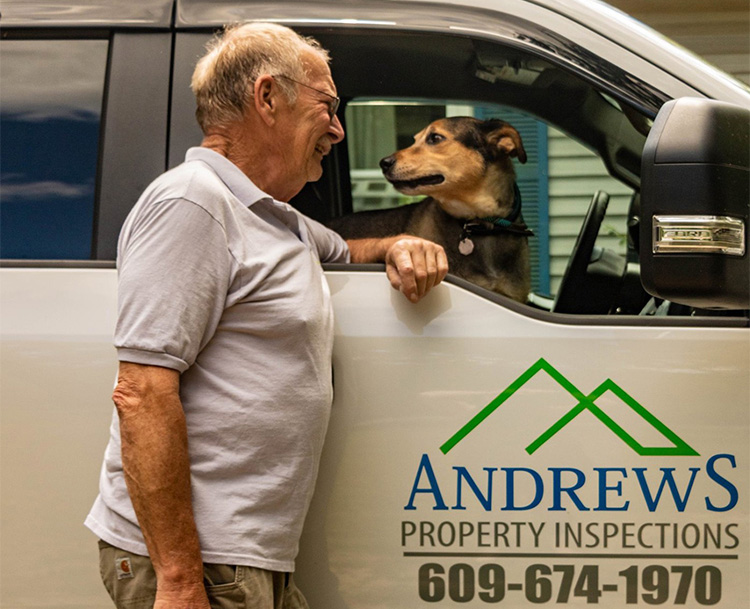 Let Us Guide You Through Your Real Estate Transaction
Welcome to Andrews Property Inspections, a residential and commercial inspection company owned by our licensed home inspector, Richard Andrews. NJ Home Inspector License #24GI00165800. We have first-hand experience with the stress and confusion resulting from a real estate transaction. We have dedicated our careers to making this process easier for our clients.
We provide honesty and open communication about the building and its condition. As a result, you will feel more at ease with your purchase by us taking the risk out of the equation.
Learn more about our inspection services or contact us today!
Commercial property inspection services in Southern New Jersey
Andrews Property Inspection is your go-to inspection company for commercial building inspections in South NJ. We specialize in commercial inspections ranging from medical buildings, office buildings, mixed-use buildings, and campgrounds.
Whether you are investing, purchasing or leasing commercial property, we take care of your inspection needs. Andrews Property Inspection is dedicated to helping you understand and manage the risks associated with the physical aspects of the property.
Richard has extensive technical knowledge of commercial property components. He will deliver a thorough property conditions assessment report on the building's major systems. The systems inspected are electrical, roofing, structure, plumbing, heating, ventilation and cooling (HVAC).
Highlighting potential repair costs and building integrity is essential to keep in mind for any commercial real estate transaction. So, complete your due diligence and get the information needed to make an informed decision regarding the property's condition.
Learn more about our commercial property inspection services.
Residential Home Inspections in Southern New Jersey
Find out the condition of the home you wish you buy by getting a home inspection from Andrews Property Inspections. Owner Richard Andrews is a quality home inspector licenced and insured in New Jersey. He is a member of the American Society of Home Inspectors, plus many other credentials.
His trained eye can uncover potential problems in the home and save you thousands of dollars in future repair bills. You will get a physical inspection of the structure and mechanical systems of the house. These include electrical, roofing, structure, plumbing, heating, ventilation and cooling.
You will receive a digital home inspection report. Get the vital information required to make a fully-informed decision before buying a home. As part of the real estate transaction process, you can make the home inspection part of your offer to purchase.
Learn more about our residential property inspection services.
Join us for the Property Inspection
When our clients join us for the inspection, they can have all of their questions answered. It allows us to show them any issues we find in the home and offer advice about proper home maintenance. Learn about your future home or commercial property first-hand. You can call us anytime after the inspection if more questions come up!
Our High-tech Equipment
Other property inspectors walk into a building and tell you what's going on at the surface level. At Andrews Property Inspections, we use state-of-the-art tools to understand the building deeper. For example, our thermal imaging camera shows us temperature differences in the building's surfaces. The images detect otherwise hidden moisture intrusion, missing insulation, and dangerous electrical hot-spots.
Testimonials
See what our clients are saying!
Professionalism, Punctuality, Quality, Responsiveness, Value
Very helpful and knowledgeable!
Elizabeth P.
06/2020